Testimonials: the experiences of others with Galiceno Horses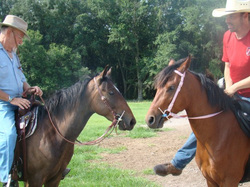 IF YOU HAVE ANY EXPERIENCE WITH THE GALICENO BREED, PLEASE WRITE US AT

GalicenoSuwannee@AOL.com


.


---
Steve Hardcastle of Godley, Texas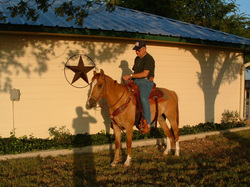 We had a good group show up for the St. Patrick's Day parade Saturday (March 12, 2011) in Ft. Worth. Fourteen people were there from GHBA in this area. Patch, the colt I rode, made his first trip to town and handled it like it was old hat. Right down to the kiddo that popped his balloon for us. He had more trouble with the arrows directing traffic on the streets and the manhole covers than the balloon.
---
Audry Marie Brown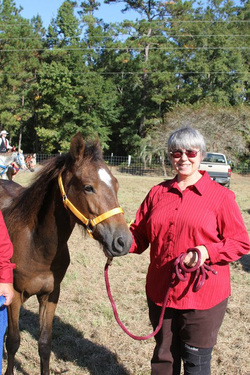 When I was a very young girl living in Del Rio, Texas, my father pointed out in the field and said, "Go pick out a horse."
I did, saddled up and rode. I didn't know then that they were "green," but the one I picked out was wonderful. That was my first Galiceno! They had great "cow sense" and we used them on the ranch, riding all day long.
---
Kathy Keener
In my limited experience with this breed, I have found them to be willing and intelligent partners. They are inquisitive and affectionate. My husband used to go to the pasture to play his trumpet and the horse would gather around and listen. They are fast and have tons of heart. Our Rose was a tough competitor. In barrel training she was turning in 17 second runs and wasn't being pushed. She even ran smooth out of her saddle and left her rider and the jockey teaching him in mid air. These are perfect youth horses with the perfect combination of size (being smaller but not too small) and speed.

I have found that this breed is far too intelligent. They read us very well and as long as we treat them with kindness, they won't avoid what we ask of them. Most of our Galicenos are back pocket, love bugs. They follow us around begging for attention. They know their jobs once they have been trained and enjoy doing it. Our 21 yo mare still remembers her halter training from when she was a baby. She hasn't shown in 20 yrs, but still remembers her commands and trots in hand in perfect step with me. You can see her body language come alive when I ask her to do something. They crave human interaction. We have really gotten attached to our little herd. They entertain us for hours with their antics. They all know their place and job within the herd, but occasionally break into wrestling sessions with others. I have seen our geldings pull the halter off of one of our stallions. Hardy little survivors, they are normally easy keepers. They require less feed than other breeds as long as they have plenty to graze on.
--
Kathy



Rick and Heidi, Live Oak, FL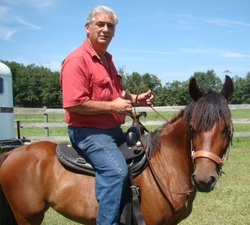 We have been concentrating on training a 4 year old gelding that has matured into an amazing horse. We are always amazed at how quickly these horses learn. It seems that in other breeds, you take two steps forward, and one step back. These horses think about what they learned so next time around, they are two steps ahead of where we left off. The response to our signals and voice commands were learned in a one hour session. Our methods are probably most similar to GaWaNi, "Horse Follow Closely, Native American Horsemanship," and Parelli's "Natural Horsemanship."

---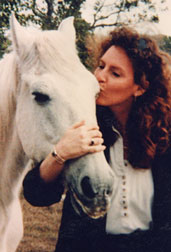 Tracey Stevens and Galiceno Lakeview Shane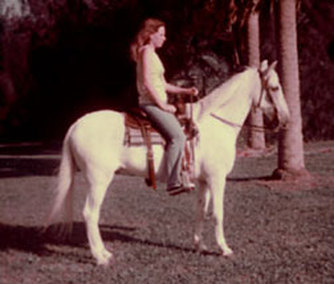 My first horse was a Galiceno and I miss him to this day. My Galiceno's name was Lakeview Shane, and he was bred by Mr. Bell of Orlando, Florida. Mr. Bell was very passionate about Galicenos, and he was one of the few people who was quite active in promoting the breed during that time.

Shane had loads of energy and such a smooth gait. He was a wonderfully smooth trail horse, and I also used to ride him in the Silver Spurs Rodeo parade in Kissimee, Florida. People just loved to watch him move. That horse had more stamina and fire than any other horse I've ever ridden. He also had more heart and kindness than any other horse I've ever had the pleasure of being around.

At one point I managed a Saddlebred breeding facility, and after a day of riding the hot Florida trails with those 16 hand horses, my little Galiceno would still be going strong while the rest of the hoses would be exhausted and dragging their hooves. Shane could literally go all day long and never seemed to tire, and he was so smooth that I was NEVER sore from riding him on the long trails we rode together for years.

What a huge heart he had, and he could also jump like nobody's business! He would do ANYTHING I asked of him, he was so trusting. I would think turn, and he would do it, that's how close a partnership we had.

He also LOVED to swim, and he would do this strange thing where he would blow himself up with air. When he did this, I could actually lift and move him around in the water! You should have seen the shocked look on his face the first time I did this. He really had respect for me after that.

I also believe that Shane saved my life when I was growing up in an abusive household as a kid, and I know for a fact that I wouldn't be alive today if it wasn't for him. His constant friendship to me gave me strength to keep going through those hard times, and I am forever in his debt. I had Shane for 19 years, and he was in his 30s when he left this earth. I will never forget my Galiceno Horse, his beauty and fire with an amazingly smooth gait!

When I saw your request on your testimonials page asking for anyone who had experience with Galicenos to please contact you, I thought I'd send you an email about my experiences with my beautiful Galiceno Horse, Lakeview Shane. I also wanted to express my thanks that you are working towards preserving this wonderful breed of horse that I had the honor of spending quite a bit of my life with.

Sincerely,

Tracey Stevens
Asheville, NC
May 21, 2012






---
One Family's Fun With The Galiceno by Keith O. Price
Edited from Horse Lover's Magazine November-December 1968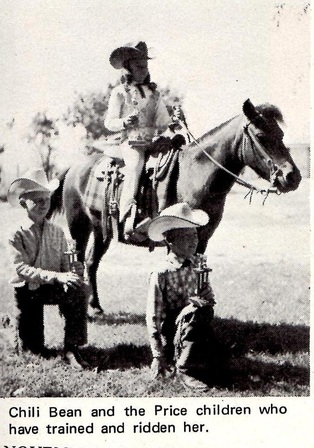 In 1963 we purchased our first Galiceno, a two year old filly. It wasn't long after we bought her that I recognized the ability of these horses to get along with kids. I wondered if our two older boys, who were then ages 5 and 6, could handle and train under the direction of adults. I then purchased another yearling filly. Our two older boys took full responsibility for the two fillies. They started doing all the grooming, feeding, handling and training under my direction and the horses responded real well. The first year the boys just kind of got acquainted with the fillies and by fall the oldest boy was able to enter the bay filly, which we called "Chili Bean" in the western pleasure at the Utah State Fair for kids 12 years and under. He didn't place, but we felt good progress had been made during our first summer

The next year they managed to win several trophies and numerous ribbons in the local horse shows and against all breeds. We live in Utah and have a ranch in Idaho and do considerable traveling between the states. This made it ideal for showing the horses in both states. Sometimes I would enter them in pony classes and other times against all breeds and sizes, but always in youth sections of the horse shows. Many people commented on the apparent ease with which our young boys handled the Galiceno, and also found it hard to believe that no one except them had handled the horses. We found, that the little horse had such a good disposition, temperament and willingness to do what was asked that it was a relatively simple task for the kids to handle and train them.

The Galiceno has a stamina that would be hard to match for most breeds. Occasionally we would haul them 200 miles to Idaho, so ranch work with them and still return in the same twenty-four hour period, and the horses seemed to be as fresh as if they had stayed at home. The change in feed and water while on the road has never bothered them and I've never given them any special care for prevention of sickness or over-fatigue due to long hauling trips.

Further testimony, our daughter, Ann, started actively competing in the horse shows last year when she was age six, on our little bay mare, "Chili Bean." This year we entered Ann in a little buckaroo rodeo queen contest. She rode "Chili Bean" and competed against 25 other girls up to 14 years of age. They were judged on personality and dress, but mostly on horse handling ability. All girls were asked to have a routine to demonstrate their ability to handle their horse. I worked with Ann and "Chili Bean" on a reining pattern that required the horse to do some fast maneuvering. When Ann and her horse performed, the little horse never missed a lead in the figure eights and backed and stopped good, and Ann was picked to be Queen of the Rodeo. She and "Chili Bean" were in parades and on television, and people asked about the horse everywhere they appeared..


---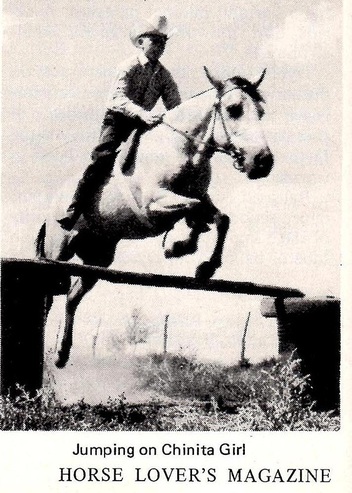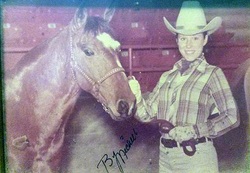 Marcy Buffington

My Galiceño, Buttons, was the first horse I ever owned--I bought him when I was 14 and he was 9, and he was a beloved member my family for the next 28 years until his death at age 37.

Buttons was only green-broke when I got him, and although I was a relative novice, I trained him myself. There was nothing he couldn't do. He was my show partner in barrels, poles, reining, western pleasure, horsemanship, showmanship, equitation (western and English), hunter-over-fences, trail, and dressage. Admittedly, he was rarely first, but he was always in the ribbons. I pressed him into service as a lesson horse so I could earn some spare money, and he performed like a champ, although he would sometimes drop his shoulder and let his rider slip to the ground if he felt he was being treated too harshly! And he could learn tricks as well as a dog can, happily shaking hands, climbing stairs, counting, or mounting a platform on command.

The summer before I left for college, I decided to teach Buttons to drive, and bought a book on driving, a harness, and a cart, all by mail-order. I knew teaching a horse to drive was a long process, but when I got that harness and shiny cart unpacked, I just couldn't wait, so I hooked Buttons up, and off we went! He pulled the cart like he had been doing it all his life.

In his later years, he taught my mother to ride, a pastime she enjoyed with a new group of horse-y friends. My parents took him with them when they retired, building him his own lovely, palatial barn. He was my mother's rock-steady trail horse, the horse anyone's grandkids could ride. When I had children of my own, I bought my older daughter a Galiceño as well, a horse she has trained herself. "Snaps" is so much like Buttons was. He is abundantly smart, absolutely sound, terribly clever, and game for anything my daughter is up for, whether it's going for a swim, jumping, pulling the same red cart Buttons pulled, working cows, trail riding, or practicing dressage.

I have ridden a lot of good horses in the years since I bought Buttons, but I truly hope to always have a Galiceño in my barn. No other breed of horse brings me as much joy!

Marcy Buffington





---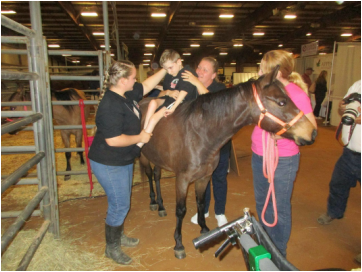 Catherine Epps
of
Tranquility Farms
, Montgomery, Texas
Our neighbors at the
Mother Earth News
Fair (Belton, Texas, Feb 20-21, 2016) were
Heidi Reinhardt
and her family from
Galicenos of Suwannee
of Live Oak Florida. They raise and train rare breed Galiceno Horses. Oh, folks...let me sing their praises! This lovely, rare and historic breed are proper horses, but more "pony-like" in size. They can and do easily carry a full grown adult (like the Conquistadors who brought them to the Americas), but they are also more (handicapped) child sized. And did I say that they are BEAUTIFUL, sweet tempered animals?!?
This loving family, both human and horse, touched our hearts beyond belief this weekend, when they offered to take our young son Iain for a ride! Now, Iain is an amazing kid to those who take the time to get to know him. He has Cerebral Palsy, so he can't YET walk or talk, but he will. He was born prematurely and had a subsequent anoxic brain injury, so he was quite tiny at birth, and has been saddled with the nickname of "Peanut" ever since. He's a hard working guy, on his therapy and as our Farm Supervisor, Taste Tester and Quality Control Manager. If it doesn't pass the "Peanut Test", it isn't good enough. But fun and games are seldom on his agenda. He can't yet run and play with the other kids, and it grieves my heart to see him left out of the fun.
So, of course Iain does everything with us, and was at the Mother Earth News Fair helping "man" the booth. Heidi and her family took a kind interest in him. I was surprised when they offered to give him a ride on their beautiful little mare. Though he's recently had the PERCs tendon release surgery, Iain's legs are still too tight for him to ride astride, but we thought that he could try side saddle! Sarah and I held him from either side. Oh, and what happened next was just PURE MAGIC.
Iain didn't know what he thought of the mare (I think her name was NiNa?), but loved stroking her silky neck. She wasn't sure what she thought of him, either, and was dancing with nerves just a little bit. But when they came together, they became ONE! She instantly settled down and stood stock still for him, and then she walked ever so slowly and carefully with him on her back. Iain's floppy head instantly came right up and his head control became rock solid! (I'm crying as I write this). The two became one and our little boy had the RIDE OF HIS LIFE!!!
I can not thank the Reinhardts (and their lovely little mare) enough for all their many neighborly kindnesses throughout the entire Mother Earth News Fair event. But the joy that they gave our son Iain is something that I will treasure in my heart all of my life. I believe I can see a Galiceno hippotherapy horse in our Iain's future!!!
---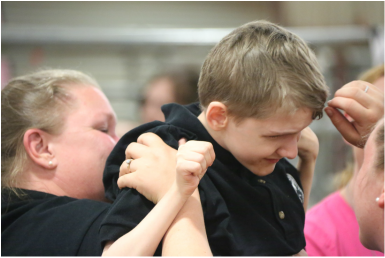 Suzanne Durham
Franklin, GA


Here are a couple photos of my gelding Galiceños from Galiceños of Suwannee. I was a novice to horses when I came across their website three years ago. I was looking to get a smaller horse and when I visited their ranch for the first time, I was impressed with the Galiceños' size AND beauty and inquisitiveness. Now that I've had them for three years, I love them and love their easy keeper nature. They have never shown any bad temper and are very mild-mannered and playful. Since I am pushing 62, I have no intention of doing more than ground work, trail riding and loving on these friendly boys. GuNi and Totasa have added so much to my life and I am glad to support the Blaneys' and Ms. Reinhardt's efforts to propagate the breed.




Here is Minnie Jordon's Galiceño named "Snaps." He's one of the smartest ponies to ever look through a bridle and a credit to his breed!

---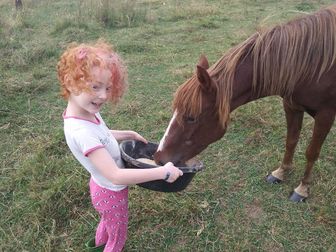 Karen W in Tennessee
Last night while Harper and I went in search of Ms. Pancetta in a field to see if she had had her piglets, the 3 Galiceno horses (two mares and a stallion) followed us and stopped in a line to observe from a distance an uncanny moment of silence for the equine sentinels. It was such a great discovery to see the six new piglets nuzzling their mamma. But when we decided to head back to the barnyard the horses followed us back giving mamma space. Harper has grown particularly fond of Ginger. A Ginger horse and her Ginger girl.
Richard M. Blaney
you are so right. These are indeed special horses.
---
Gary Waldrop in Texas
November 21
, 2017
While playing around on the internet I found this page [Galicenos.org]. I grew up in Tyler, Tx in the late 60's and 70's and knew Glen and Jeff Bracken well. One of my best friend's mother was the first Secretary of the Galiceno Assn. for many years. My buddy rode and showed for the Brackens for many years. He kinda got his professional carrier started showing Galicenos. I rode and showed several of them when I was a teenager too. There was a man from Longview, Texas who owned a Western Wear store named Bedels who owned several of these horses that I showed. One was a heck of a reining horse. He could stop, slide forever and turn around as good as any horse I ever saw. There was a trainer in Tyler named Duramas who owned and trained them for many years. He had some pretty good barrel horses. Old memories, glad to see they are still around.