The Stallion, Monty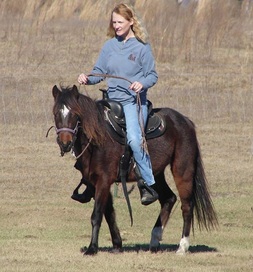 The following discussion is still in draft form and will be gradually modified. Any comments, suggestions, and corrections are truly welcomed!

Photographs of each horse showing their color traits will be added after they shed their winter coats.
---
Easy and Bijou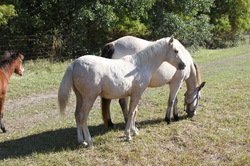 Horse Color Genetics

We are basing our discussion of the colors represented in our Galiceño herd on the best available information on color genetics in the book "Equine Color Genetics," D. Phillip Sponenberg, 2009, 3rd ed. Wherever possible, we are using the color terms or color descriptions from this book. Dr. Sponenberg's main interest lies in Spanish colonial horses and Galiceños are one of the original Spanish colonial horses. Other breeds (quarter horses, draft horses) use color terms that may differ from those we will use. Our Galiceños have not been genetically tested for specific color genes so our descriptions are visually based. We will describe the color varieties present in our Galiceño herd and use our best guesses as to the genetics involved. In the handbook of the Galiceño Horse Breeders Association, permissible colors of the breed are described. Only solid colors and roans are allowable and pinto, Appaloosa patterns and albino are not allowed. The colors described in the breed handbook are as follows: bay, black, brown, sorrel, chestnut, dun, buckskin, red dun, grullo, palomino, grey, red roan and blue roan. In both the black and brown descriptions there are "light areas at muzzle, eyes, flank, and inside upper legs."

Several of our horses are nearly black or brown. According to the Galiceño handbook and in keeping with Sponenberg's nomenclature, we will call these horses "seal brown," very dark brown bodies with black points and lighter brown areas around the muzzles, eyes, flanks and insides of upper legs. According to Sponenberg, this lightened or "mealy" effect may be caused by 2 possible genes:

1) the panagare (mealy) gene, Pa+, causes a lightening of these areas in all color coats, not just bays or browns. Our chestnut horses appear to exhibit no mealy effect therefore the panagare gene is likely not present in them. However, our palomino dun mare does have lighter flanks and undersides, so she may be carrying the Pa+ gene.

2) In our "seal brown" horses the agouti allele is likely At (called the "black & tan" allele) which causes the lightened effect in these areas. This allele affects only bay horses. The agouti gene affects the extent of black pigmentation. The dominant allele, A, restricts black to the points - lower legs, ear rims, mane and tail. The recessive allele, expressed only in the homozygous condition, aa, results in black pigment over the entire body.

There are several versions of the agouti allele: A+, which is dominant to At, which is dominant to A, and a which is recessive.

Pairs of alleles produce a color:

A as in (AA) or (Aa) = typical bay with black points extending to the "knees" and hocks. This allele is dominant to
the recessive a allele, but recessive to both other forms of the A allele.

a as in (aa) = black horse. Both recessive alleles must be present to give black color

At allele as in (AtAt) or (AtA) or (Ata) = black & tan allele, resulting in seal brown. This allele is dominant to the recessive a allele and to the A allele, but recessive to the A+ allele.

A+ as in (A+a), (A+A), (A+At) or (A+A+) = "wild bay" with extent of black points restricted to the fetlocks and pasterns. This allele is dominant to all the other "a" alleles.

We conclude that our seal brown horses are the result of the At agouti allele.

We are trying to simplify these color genetics - our apologies to Dr. Sponenberg if we mess it up.


Here are some of our horses and their color descriptions and possible genotypes.

Spring, a filly, is a typical bay (E_AA). Her dam was the same color. Neither exhibit lightening of the muzzle or flanks.

Zanta is a seal brown mare (appears to carry the At gene.) Zanta's first son, Totasa, is also the same dark seal brown color. Both appear to be (E_AtAt) or (E_At A). We are not sure of the color of Totasa's sire, as we acquired Zanta as a bred mare.

Misty is Zanta's second foal. The sire is Monty. Misty is a very dark, almost black filly. Sometimes the term "black-bay" is used. Her genotype may be E_At_ or E_aa. Homozygous aa would give true black and since she has a hint of dark brownish color around the muzzle, she is probably the first genotype, a very dark seal brown.

Monty, our main stallion, is also very dark seal brown, almost black, with some lighter brown around the muzzle, eyes and inside upper legs. He probably carries the At agouti allele. He also exhibits some white "ticking" over his flanks in the summer months. This seems to indicate he carries the rabicano gene. The base of his tail, however, does not show any white. His sire, Windfire, was a sooty buckskin, so Monty may also carry a gene for "sootiness". His grand-sire, Flame of Lochinvar, according to his owner and breeder, also had minimal white ticking on his flanks, so the rabicano gene was passed on from him. One of Monty's offspring (Suwannee Rain) is a chestnut stallion that clearly exhibits the rabicano gene, with extensive white ticking on his flanks and stifles year round and a distinctive white "coon tail ring" at the base of his tail.

Easy is a silver-beige buckskin mare. A buckskin is a bay horse with one cremello gene. We are guessing that her genotype is (Ee A_CcrC). When she was mated to Monty, the dark seal brown stallion, she produced an " Isabelo" palomino filly, the lightest shade of palomino. This filly, Bijou, is a pale cream color with a white face stripe and white mane and tail and brown eyes and pale skin. Her genotype would be eeA_CcrC . A palomino is a chestnut with one cremello gene. Since her color is based on chestnut, she had to inherit 2 recessive "e" genes, one from each parent, and therefore her sire Monty is heterozygous for the extension gene (Ee.)

Explanation of bay versus chestnut colors:

Only 2 pigments, eumelanin and phaeomelanin, are responsible for all the horse colors. The extension gene (E, e) determines which pigment is produced. The dominant allele, E, causes production of eumelanin, a dark brown pigment - like in bay. The recessive allele, e, causes production of phaeomelanin, a reddish pigment - like in chestnut. Phaeomelanin can only be produced when both the alleles are recessive (ee.) The presence of just one dominant allele (or both dominant alleles) will cause eumelanin to be produced, therefore both EE and Ee will produce eumelanin - dark coat color. Other genes, such as the cremello gene, will influence these pigments to produce other coat colors.

E_A_ gives bay based colors

eeA_ gives chestnut based colors (ee is epistatic - that is, it is expressed no matter what the A alleles are)



The presence of a single dominant allele of the cremello gene ( Ccr ) changes bay to buckskin. (E_A_CcrC ). Ccr is the dominant allele, C is the recessive allele.

The presence of a single dominant allele of the cremello gene ( Ccr ) changes chestnut to palomino. (eeA_ Ccr C).



Maverick is a silvery-beige buckskin stallion. He exhibits no dun striping, but has a prominent band or edging of white hairs mixed in the base of his black mane and at the base of his black tail. We guess his genotype is E_A_CcrCdd .

An explanation of the dun factor: D (dominant) and d (recessive) indicate the pair of genes responsible for production of the dun factor - line backed, shoulder stripe, and leg barring. Just one dominant allele will cause these markings. It is also supposed to dilute the body color. See pictures below.


Rain is a stallion out of Lucy (bay) by Monty. He is a deep rich copper color with mane and tail slightly lighter than his coat. He exhibits the rabicano gene, showing extensive year round white ticking over his flanks and stifles and a white "coon tail" at the base of his tail. On his hips and flanks, he also has darker copper dapples which are more evident in his summer coat. These are called "Bend Or" spots. We are guessing his genotype is eeAaCC plus whatever the rabicano gene is. See pictures below.

Rose, a full sister to Rain, is a filly also out of Lucy by Monty. She is a dark reddish chestnut with a matching mane and tail and exhibits no ticking or dappling.

Dee Dee is a 8 year old palomino dun (dunalino) mare. She is a medium red gold color, with distinctly lighter areas on her venter and under her upper legs. We assume this is due to the action of the panagre' (mealy) gene. She exhibits a wide golden brown dun stripe down her back and her summer coat exhibits a faint transverse shoulder bar and faint leg bars. Her mane and tail display a mixture of flaxen hairs and hairs somewhat darker than her body color, but overall they are lighter than her body. We are guessing her genotype to be: eeA_CCcrPa+PaDd .


A mating of Dee Dee with Totasa before he was gelded produced a red dun filly, Love. At 5 years old, Love has an dark apricot body with a very distinct reddish-brown dun stripe, distinct reddish-brown transverse shoulder bar and distinct leg barring and dark ear rims. She exhibits no lightening of the ventral areas. Her mane and tail are dark reddish-brown. We guess her genotype to be eeA_CCDd. See pictures below.

NiNa is a bay roan mare - what Sponenberg refers to as purple roan. She has black points and a black mane and tail. In her winter coat, she appears just dark brown but the white hairs are evident in the undercoat. In summer, her head and neck are dark brown and her flanks and hindquarters are pale greyish-brown. Her first foal, a colt , Oaxaca, has the same body color pattern, but his legs and mane and tail are dark brown, not black, so he may be a lilac roan. Oaxaca's color remains light throughout the year and does not darken in winter. His sire is Rain, the chestnut.
We do not think that they are grullos, as that color group is supposed to exhibit primitive marks - which these do not.

When Easy, our silver buckskin mare was mated with Monty, the dark seal brown stallion, she produced Bijou, an isabelo palomino, the lightest shade of palomino. Bijou also exhibits dappling of her coat. Her genotype would be eeA_CcrC.

Ruby is a red dun mare, of a bright apricot color with a distinctive dorsal stripe. Her mane and tail are like her body color.

Pepper and Bitsy are dun mares with distinctive dorsal stripes and coats of a golden beige color. Both have manes and tails of a darker brownish color.

Our other Galiceños are mostly typical brown or bay. Lucy, dam of Rain and Rose, is a typical bay - no lightening of the muzzle or flanks. Lucy's other recent foal, also by Monty, is Storm, a light bay with a large beautiful star on his forehead. Lucy is the dam (years ago) of Easy, the buckskin mare. The sire of Easy was Windfire of the Hardcastle Ranch in Godley, Texas, one of the more well known and often used Galiceño studs. Windfire was a sooty dark buckskin and his dam was a buckskin. Windfire is also the sire of Monty and Dee Dee.


Nemo is a typical bay out of Zanta by Monty.

Margarita is a bright reddish bay out of Zanta by Rain.

Smoky is a typical bay out of Easy by Monty.

Suwannee Love (below) shows her dorsal Dun Stripe and her cross markings. Her shaved spot was from an epidural and it shows the Dun stripe to be in her skin, not just hairs. She also has prominent leg bars.

---

A filly, Veracruz, showing the Rabicano gene.